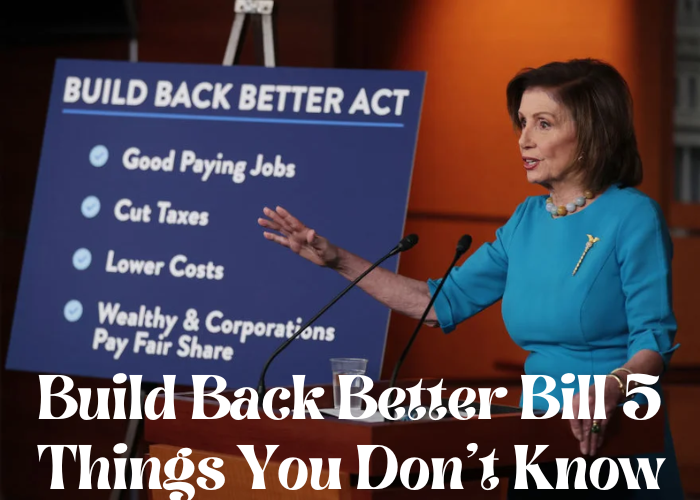 As the Build Back Better bill makes its way through the House of Representatives, there are a few things you should know about it. Here are five things you may not have known about the bill. Stay tuned for more information on how to support this critical legislation.
The Rebuild Is Happening, but It's Not as Fast as People Want
The rebuild is happening, but it's not as fast as people want. The government has set up a task force to look into the problem, and they've identified some key issues. The first is that there is a lot of red tapes involved in getting approvals for construction projects. The second is that the cost of materials has gone up, making it more expensive to rebuild. The third is that there's a shortage of skilled labor. The task force is working on solutions to these problems, but in the meantime, the rebuild is happening, but it's not as fast as people want.
There Are a Lot of People Who Have No Home, and the Wait List Is Long
It is a national disgrace that there are a lot of people who have no home and the wait list is long. Every American deserves a safe, decent, and affordable place to live. That is why I am committed to working with Congress to pass the Build Back Better bill, which will invest $2 trillion in our nation's infrastructure and housing. This legislation will create millions of good-paying jobs, increase access to affordable housing, and reduce pollution and carbon emissions. It is time for us to invest in our future and build an economy that works for everyone.
People With Homes Are Frustrated Because They Can't Get Back Into Their Homes
People with homes are frustrated because they can't get back into their homes. They are trying to repair the damage from the hurricanes, but they can't get back in. They need help. The federal government should pass a bill that will help them get back into their homes and rebuild them better than before. People with homes are the backbone of this country, and we need to help them. We need to build back better.
Insurance Is Not Covering Everything for Everyone
Insurance companies have been increasingly refusing to cover certain types of care, leaving patients with huge bills. Even when insurance does cover something, patients are often left with high deductibles and coinsurance rates that make care unaffordable. Insurance companies have also been narrowing their networks of providers, making it hard for patients to find a doctor who accepts their insurance. As a result, many people are unable to get the care they need. The Build Back Better bill would help to address these problems by requiring insurance companies to cover essential health benefits and expanding the provider network. This would ensure that everyone has access to affordable, quality health care.
There Are a Lot of Scams Going On, so Be Careful
Scammers are becoming more and more creative, and it can be hard to stay ahead of them. They're always coming up with new ways to try to steal your money or personal information. That's why it's important to be careful when you're online, especially if you're sharing any sensitive information.
There are a lot of scams going on, so it's important to be aware of what to look for. If something seems too good to be true, it probably is. Be suspicious of unexpected emails or messages, even from people you know. Don't click on any links or attachments unless you're sure they're safe. And never give out your personal information unless you're absolutely sure you can trust the person or website you're dealing with.
By being careful and staying alert, you can help protect yourself from scammers. But if you do end up being scammed, don't be too hard on yourself. Scammers are very good at what they do, and even the most cautious people can sometimes get caught off guard. If it happens to you, report it to the proper authorities so they can try to catch the culprit and help prevent others from falling victim to the same scam.
Conclusion:
If you want to help make the world a better place, start with these five things. It was created in response to the COVID-19 pandemic and its devastating effects on people's lives and livelihoods. The bill aims to build back better by investing in people, communities, and our economy. It includes measures to create jobs, provide health care and prescription drugs for all Americans, rebuild our infrastructure, combat climate change, and much more. We urge you to contact your representatives and tell them to support this vital legislation. Thank you for taking action!